Here are some good reasons to select you week end destination at Sundarban. Apart from being the UNESCO World Heritage Site, it is more known for its versatile natures of flora and fauna. The home land of Royal Bengal Tiger, Sundarban attracts visitor its natural beauty. More than 260 species of Birds, threatened species of estuarine crocodile and the Indian Python can be seen here. The renowned place of tiger conservation can make you amaze with the modern hospitality and management. You may be the lucky enough to watch the swimming of tiger through the brackish water. Surrounding thick mangrove forest make you feel an adventure tour.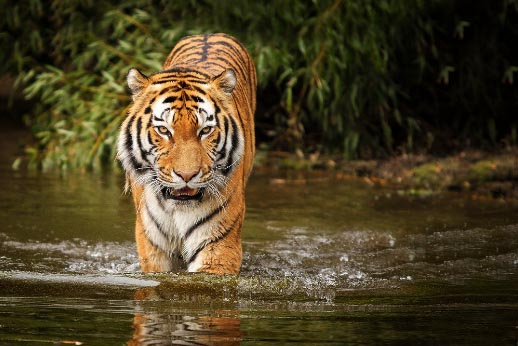 Let's talk about some important facts of Sundarban, which you may note before the Sundarban Tour.
1) Sundarban consists of 102 islands in which 54 are inhabited, remaining are for forest area. These islands are interconnected with the waterways; therefore, you can access every corner of the jungle.
2) The number of Sundarban Tigers are increasing, now the counting is 96.
3) The Sundari Tree (Heritiera littoralis) is the key for the naming of Sundarban. It is believed that Sundarban name came from this tree name.
4) Gosaba is the mainland of Sundarban (13ft from sea level) is the starting point for forest area.
5) Local people most of them are dependent on Jungle or River for their daily livelihood. For honey collection they depend on Jungle. "Mouli" is the local name for those people collect honey from Jungle. This is very risky job, they collect honey from deep dense forest. Local fishermen collect fishes and crabs on those connecting creek.
6) Habitat land are separated from river by small mud dam (some places it is concrete). In case of cyclone or tidal wave sometimes these dams washed out and the whole village comes to under the river. Almost every year natural calamities makes people to live under painful life. Last few natural disaster was, "Aila", Bulbul", "Phani", Amphan" and very recent "Yaas".
7) Sundarban Local economy mostly depends on Agriculture and Tourism. Sundarban Travel industry makes the people find a good alternative way to earn money.
8) No night safari is allowed there. I found some websites which are claiming for night safari during Sundarban Tour. It's a completely fake commitment. Please be aware of that.
9) Pet is not allowed there.
10) Carry cash or try to transact online, as there are lack of ATM facility two ATMs are there in Gosaba main land.