Sundarban Tour Guide : Basic Information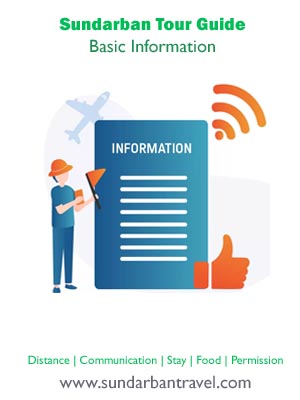 If you're considering a package tour from Kolkata to Sundarban, it's important to keep in mind Sundarban tour guide and basic information. Sundarban has an altitude of 7.5 meters, located at 21.9497° N, 89.1833° E. The nearest rail station is Canning Railway Station (CG), while the nearest airport is Netaji Subhas Chandra Bose International Airport in Kolkata (CCU).
Location : Sundarban is a big area starting from North 24 Parganas to the coastal area of Bay of Bengal.
There are many gateways to entry for Sundarban visit, most famous gateway is Godkhali Ferry Ghat (South 24 Parganas).
Distance from Kolkata is almost 100 km by road.
Railway Station : Nearest Rly. Station is Canning (Local route). From Sealdah South Division Local train (no reservation). Rly. Station to Godkhali Distance is almost 28 km. You can take Bus, Auto, Trecker from Canning Station to Godkhali.
Boat Fare: There are no public boat for jungle visit. You need to book a private boat for doing so. Boat fare Rs. 6000/- to 8000/- per day.
Permission : For jungle visit you need pay the i) Boat Entry fees ii) Guide Charges iii) Entry fees for Travellers. These three charges have to pay by traveller. In case you are in a package tour then your operator will pay that.
Foods : Apart from the boat fare one of the major expenses need to pay by traveller is fooding expenses. As you will not get any on route hotel for your menu. Before starting your boat journey, you can take food from Godkhali or Gosaba. Another option is to take food from boat. In general every boat has cooking facility and cooking staffs. You need to pay for that.
Night Stay : If you are a day traveller then you may return by evening. But if you want to stay in Sundarban for a night, you need to select a good accommodation in Pakhirala. There are plenty of hotels in Pakhirala, most common are : United 21 Resort, Hotel Apanjan, Hotel Araam, Sundori Lodge, Hotel Mainak, United Cottage etc.
Medicines : Always carry your medicine for headache, stomach upset, fever etc. Nearest medical store is in Gosaba. There is a Hospital in Gosaba.
It's also important to note the location of the nearest hospital, which is the Canning Sub Divisional Hospital. In case of any medical emergencies, the hospital can be reached at (+91) 97325 95449. Additionally, the nearest police station is Gosaba Police Station, which can be reached at 03218 236 566.
Having these important facts in mind can help ensure that your Sundarban trip goes smoothly and that you're prepared for any unforeseen circumstances.
Travel Agent : Sundarban Tour Operator