Her is a guide : How to choose your Sundarban Travel Package (10 Important Tips)
When you decide to visit Sundarban, you need to check few things :
Tour Operator : Before selecting any agency for your Sundarban Travel, you need to check the Tour Operator's Reviews and Ratings. As this is very important, In now a days lots of operators started selling Sundarban Travel Packages. It is difficult for you to choose the right one between them. Check there reviews and ratings. Ask them to share their Reviews link. It looks like below :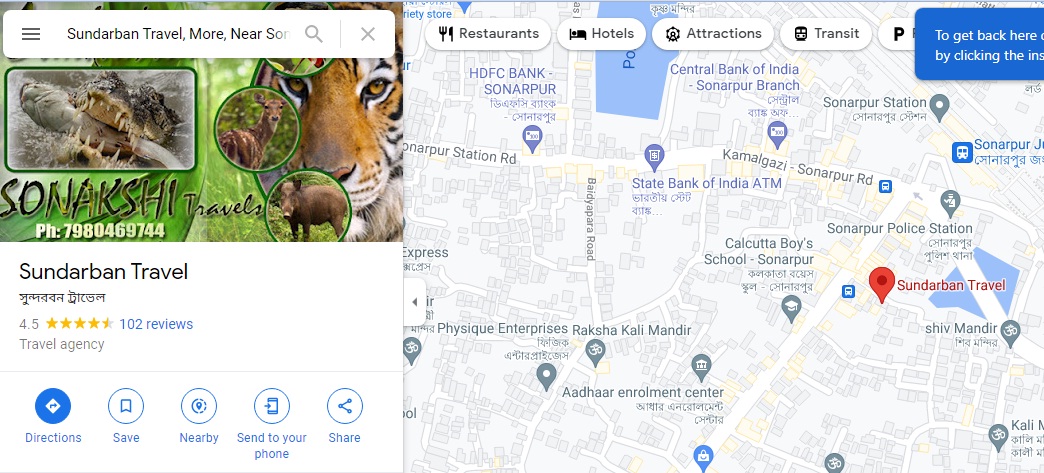 2. Accommodation : Select carefully about your night stay during Sundarban Package Tour. All standard package comes with night stay in Hotel / Cottage / Resort. You need to ask the Sundarban Tour Operator for photographs of rooms or property. Also ask for the amenities like TV, AC, Geyser etc. Power backup facility also is the major concern during your night stay.
3. House Boat: As you travel throughout the day in Boat, therefore, it is very important to check the facilities, cleanliness, safety etc. Life jackets are compulsory for all travellers. If you not wearing the jacket check where it is stored. After the pandemic it is very important that boat is not overcrowd. Very few agencies maintaining the social distance during boat ride. So ask the tour operator about the numbers of travellers.
4. Car : Most of the Sundarban Package Tour comes with Pickup and Dropin facility from Kolkata. So if you are travelling from Kolkata it is important to ask the number of travellers, as these cars with sharing basis. If you selecting AC package then the car is AC, if you selecting non-AC then the travelling car is non-ac.
5. Foods : Sundarban Package Tour comes with foods, most of the boat with their own cook. Check the menu before book the tour. Quality and Quantity is very important thing to consider. Proper hygiene maintaining is also important thing.
6. Drinking Water : It is strongly advice, that you should take package drinking water. Normally most of the Sundarban Tour agency offer Package drinking water of 20 ltr. jar. with a dispenser.
7. Destinations cover: In your Sundarban Trip you need to know the destinations covering by this package. If you are selecting Private Sundarban Tour Package you may able to customize the destinations by yourself.
8. Entry Fees & Permission: Your Sundarban Tour plan you need to get permission from forest department, it is chargeable and also need to pay for Guide charges and Boat's BLC permission charges. In a Sundarban Package Tour you don't need to pay extra by yourself as all the charges are included in this package tour. You just make sure by asking your Sundarban Tour Agent.
9. Guide: During your Sundarban Jungle Visit your need a good and educated guide. A qualified and experienced guide can predict the wild animals movements. Therefore, success of your tour mostly depends on the qualified experienced guide. You may opt for a qualified experienced guide in a Private Luxurious Sundarban Tour.
10. Documents : The most important things is carry Photo Id proof of each individual. Preferably, Aadhaar card. If you are a non-Indian resident please carry passport with you. You need this things to obtain permission from forest department. You may consult with your Sundarban Travel Agent for further clarification.
Moreover, if you need any kind of assistance regarding Sundarban Trip you may contact with S. Talukdar (M) 7980469744 or 8583048848
or visit their website: https://sundarbantravel.com